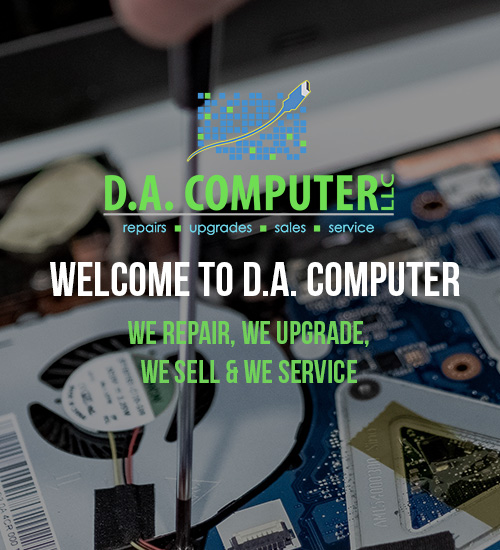 PC & Notebook Repair & Upgrades
Whether your PC has stopped working completely, has become slow and frustrating to use, or is in need of upgrading, then we have the in-house expertise to help you. Please note, we do not work with Mac or other Apple products.

Networking Solutions
If you've got several PCs at home or in the office and want to maximize their potential by sharing documents, files, and media, you probably need a network.

Photo & Document Recovery & Hard Drive Cloning
We can recover lost documents, files, photos and any important data from a broken computer.

Networking Solutions
Looking for a great reliable used or refurbished computer, contact DA Computer to see what we have for sale.

Networking Solutions
It is not just inexperienced users of a PC or laptop that can fall prey to the effects of a computer infection. Even the most experienced user can inadvertently allow a virus or other malicious software to enter and spread.

Whether it's a personal computer problem, or a business pc issue, we're here to help!
Our skilled technicians will help you with all your PC and MAC Repair & Upgrade Services.
Our Office:
107A Waterman Avenue
East Providence, Rhode Island
401-270-0087
Email:  info@dacomputer.net
Office Hours:
Monday – Friday:
10 A.M. – 5:00 P.M.
Saturday:
10 A.M. – 2 P.M.